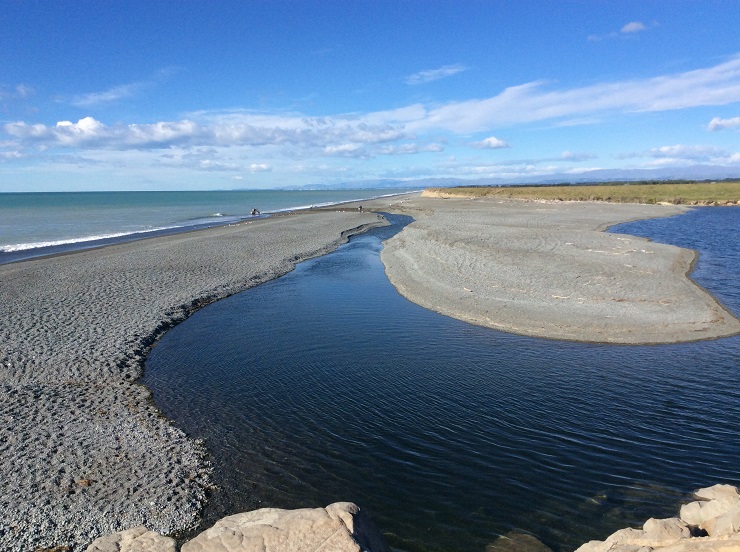 How to get there:
From SH1 North of Orari, take Farm Road to Canal Road and then onto Clandeboye Settlement Road, past the processing plant and into Park Road to the mouth of the Orari.
The Orari (meaning 'lively') rises 1300m above sea level from the southern flanks of Walkers Spur in the Ben McLeod Range and flows westwards to Blue Mountain where it meets the Phantom River and the Hewson River.
The source of the Phantom River itself, lies some 1700 metres above sea level in the Ben McLeod Range.
The Hewson River meets Quartz Creek between the Ben McLeod and the Tara Haoa Ranges before joining the Phantom and the Orari at Blue Mountain just off the Lochaber Road.
The Orari changes course and flows south east past Mount Frances collecting Andrews Stream, Black Birch Stream and on past Tripp Settlement and through the Orari Gorge. Across the plain where the Orari disappears periodically amid gravel braids and onwards to the Pacific.

Maximum stay 3 nights (please arrive after 4pm and leave before 10am)
Please camp responsibly:
No fires
Always use a toilet
Please don't litter
Please dispose of toilet waste sensibly
Respect your fellow campers
Be prepared
Weather in New Zealand can change unexpectedly so make sure you check the forecast for any warnings and always carry appropriate provisions.
We appreciate your help in preserving the beauty of our District by camping responsibly and protecting our natural environment.
Please enjoy your stay.
Last updated: 16 Sep 2021