Temuka Strategic Plan
What is the Temuka Strategic Plan?
The Temuka Community Board are developing a strategic plan for Temuka and the surrounding area including Winchester. The Strategic Plan helps to bridge the gap between a shared Vision and Objectives for Temuka and a range of big and small projects that Council, the Community Board, and members of the wider commercial and not for profit community could undertake to make a difference. Looking at the many possibilities in front of us through the lens of a shared Strategic Plan helps us to research, prioritise, coordinate and fund the right projects and initiatives based on how well they give effect to the Vision.
What have we done so far?
The first step in this plan was to pull together a general scope or focus for the strategy which we could road test with our community and use to understand the available information about what was happening and planned.
To get the ball rolling the Temuka Community Board suggested:
The vision is to "Get Ahead" with the following objectives front of mind
Promote residential growth
Promote business growth
Encourage visitors to stop, stay and spend
Enable residents to stay for a lifetime
Enable families to stay together
Improve connections with the wider District
Improve facilities and amenities for residents
Create a clean, fresh, attractive environment
Create a strong identity/ point of difference or 'specialness'
Create a special relationship with Te Rūnanga o Arowhenua
Taking that scope we then ran an analysis of existing public and private planning and activities already on foot so that these would be understood and accounted for (no duplication of effort) in any future plan. This step was completed in March 2022. You can download a copy of the stocktake summary report here.
What we asked you
Building on this broad understanding of the context we then needed to tap into local knowledge and connections. We needed to sense check our picture of what might be happening in Temuka right now and our ideas about how local people would like to see Temuka in years to come. In March and April 2022 we asked for your feedback on what matters most for Temuka, now and in the future, for locals and for visitors.
What you told us
You supported our overall direction (87%) and identified a range of opportunities for us to work together to revitalise Temuka with a general focus on promoting investment in and around King Street and improving the connectivity and liveability of the centre. Key themes you raised were around visible arts and culture, the river trails, the town square or civic heart of the township, the need for affordable and appropriate housing for all ages, the need for a strong local brand and identity, and the significance of the relationship to and signposting from SH1 to tap into the opportunity presented by this potential visitor stream.
Interestingly we didn't get any feedback about hopes and dreams for the wider Temuka ward area (beyond the township) which is something we would love to learn more about.
You can download a copy of the consultation summary report here.
What we did next
We have now taken your ideas, together with the stocktake information, to pull together a first draft of the Temuka Strategic Plan. Sticking with the popular Vision to "Get Ahead" the draft plan suggests that we focus our effort on addressing two key challenges.
Severance and connectivity issues between the town centre and the surrounding area; and
A lack of people and vibrancy in the town centre.
To do this the plan proposes 4 key moves, each with its own cluster of specific projects and activities that could get us, together, to where we want to go. These are
Connecting Vine St and King St;
Connecting the town through a network of trails for people walking and people on bikes;
Encouraging residential and civic life in the town centre; and
Addressing the look and feel of the town, particularly around the entrance points, to rebuild a strong identity and positive first impression for visitors.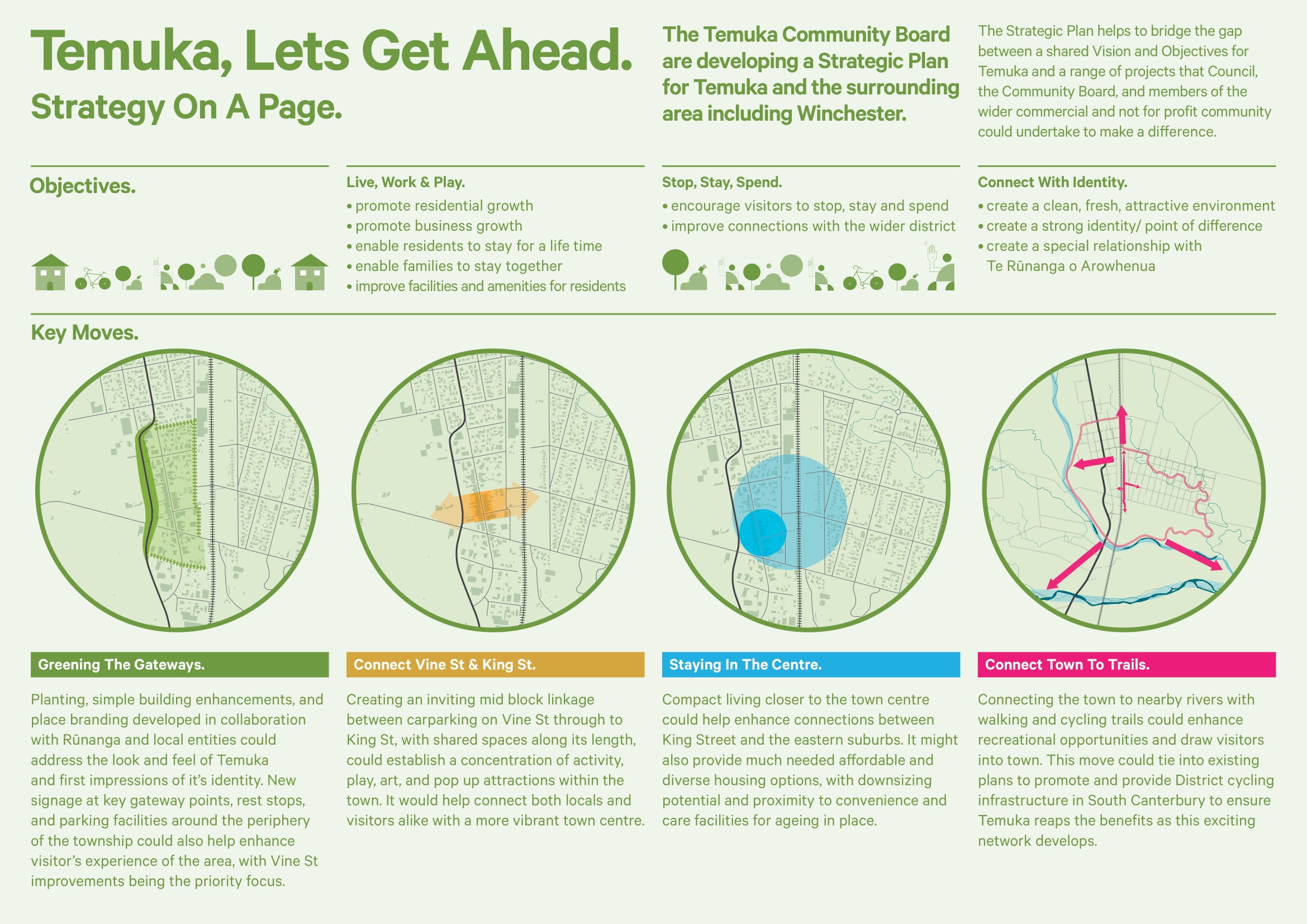 You can download either a full length copy, or a summary of the draft Temuka Strategic Plan to find out more about these key moves and possible supporting projects.
What's happening now?
The Temuka Community Board would love to hear your thoughts on the draft Temuka Strategic Plan. You have already told us that the direction is about right, but what do you think of the proposed key moves and the project ideas? Have we got the right stuff in there to get us to where we need to go? Is anything missing?
Consultation on the draft Temuka Strategic Plan will run from August – September 2022 with final comments incorporated into an updated Plan which will be presented for review by the incoming Temuka Community Board at a time following the close of the election process in October.
Once a revised Temuka Strategic Plan has been reviewed by the incoming Temuka Community Board in late 2022 the Board may work with the local community to research, develop, prioritise, coordinate and advocate for funding for those projects and initiatives that have the strongest local support and compelling evidence to back them up. For example, the Temuka Community Board may present a submission to Council's 2024-34 Long Term Plan for the inclusion of featured projects in the next long term funding programme for the district. In other instances, local community or commercial players may be able to take a more immediate lead on projects that align with their values and vision for the community.
Have your say!
Complete our online survey here - closing date 30 September
Pick up and complete a hard copy survey from the Temuka Library
Cut out and complete from the September issue of The Magpie
Cut out and complete from the September 8 "Focus on Temuka" issue of The Timaru Courier
Drop off your completed surveys to the feedback box at the Temuka Library or freepost to Timaru District Council, Freepost 95136, PO Box 522, Timaru 7940