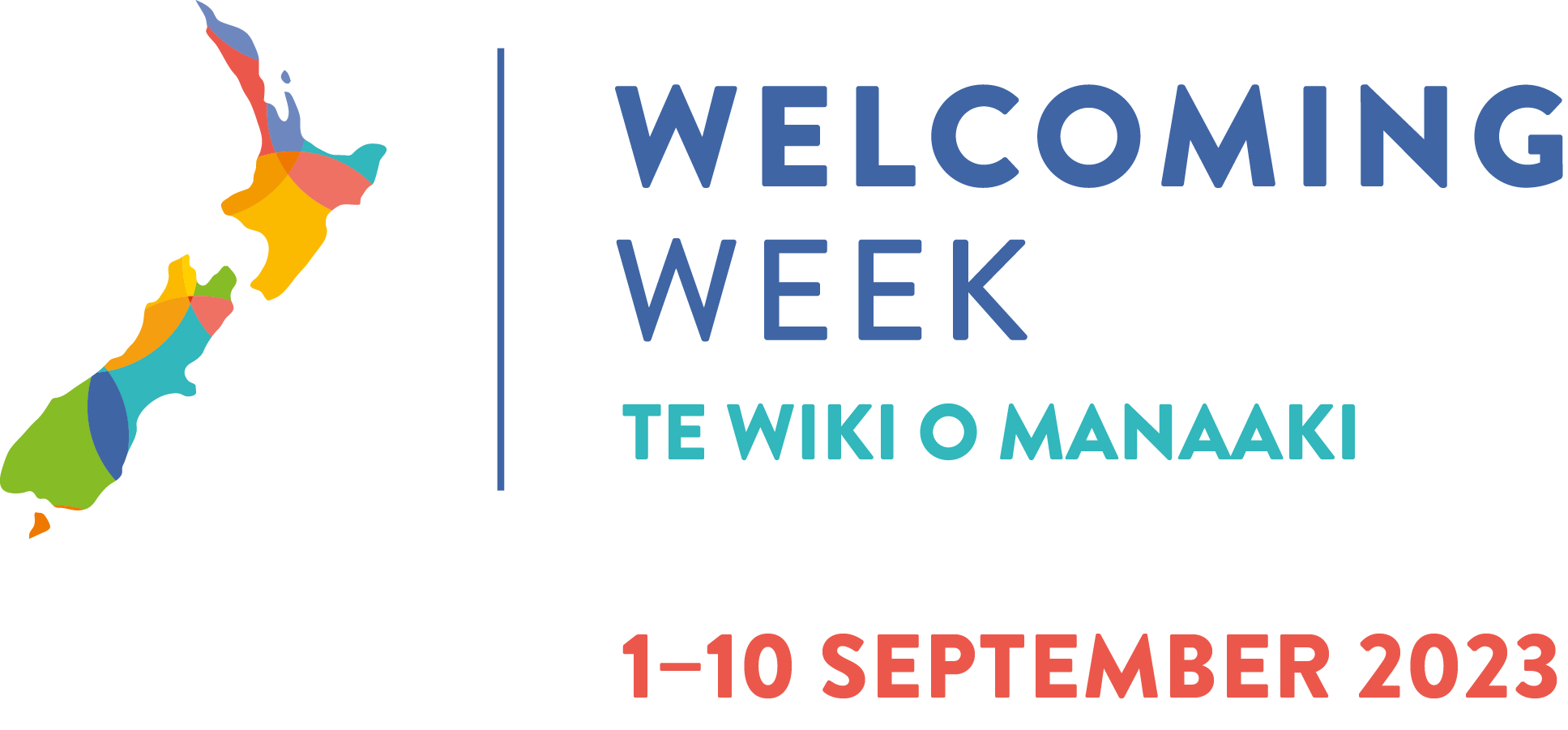 Launched in 2012, Welcoming Week gives us an opportunity to celebrate our welcoming values through local events and initiatives that foster mutual understanding, stronger connections, and deeper belonging among all of us - particularly long-time residents and newcomers.
Aotearoa is one of the most diverse countries in the world. There are over 200 different ethnicities and a quarter of all people who call New Zealand home were born overseas. Our diversity is our strength. It's what makes us a vibrant and attractive place to be. Welcoming Week in Aotearoa is a chance to celebrate these qualities and demonstrate two important Māori principles:
1. Whanaungatanga - the importance of relationships, and
2. Manaakitanga - the process of showing respect, generosity, and care for others.
It is the first time that the Timaru District has celebrated Welcoming Week, so let us roll out the welcome mat and celebrate the things that unite us. Because no matter what language you speak, who you worship or where you were born - nau mai rā - glad you're here!
Friday 1st September - Connect and Play Playgroup

44-46 Rothwell St, Tu | 9.30am – 11.30am

For parents and children aged 0-5 years | Sensory play and exploration

Email: Rebekah.connectcc@gmail.com
Friday 1st September - Learn to Dance with Step Right Dance NZ

The Scottish Hall, 20 Barnard St, Tu | 6pm

A fun introduction to social dancing, no partner required

Email: Lynda.Berkahn@gmail.com
Monday 4th September - Opening of Tongan Language Week

Caroline Bay Hall | 9.30am - 12pm

Come and celebrate the opening of Tongan Language Week with the Tongan Society South Canterbury!

The theme for Uike Lea Faka-Tonga 2023 is 'E tu'uloa 'a e Lea faka-Tongá 'o ka lea'aki 'i 'api, siasí (lotú), mo e nofo-'a-kāingá, which means the Tongan Language will be sustainable if used at home, church and in the wider community.

All are welcome to join the celebrations!
Monday 4th September - Pop-Up Exhibition at the Museum

South Canterbury Museum | 2pm

Come and learn more about the new Theatre Royal and

Heritage Facility, and contribute to the conversation about opportunities to celebrate our cultural diversity in the new development.

Email to register your interest: museum@timdc.govt.nz
Tuesday 5th September - Eco Experience

SC Eco Centre, 55c Redruth Street, Tu | 1pm – 3pm

View displays, learn how to recycle, visit the Crows Nest and

the Raptor Experience and take a tour of the transfer station.

Check SC Eco Centre Facebook for more info or email ecocentrefriends@gmail.com
Wednesday 6th September - Multicultural Aoraki Coffee Group

Ashbury Bowling Club, 20 Ranui Ave. Timaru | 10am – 12pm

Come for a fun coffee group to celebrate both Tonga Language Week and Welcoming Week.

Email: maturo@multiculturalaoraki.org.nz
Wednesday 6th September - Refugee Settlement Meeting and Ceremony

Timaru Council Chambers | 1pm – 3pm

Ceremony to celebrate former refugee families 12-month anniversary in Timaru and a meeting to work together as a community to ensure former refugees can thrive in our region.

Email welcomingcommunities@timdc.govt.nz
Thursday 7th September - Te Ana Māori Rock Art Tour and Tree Planting Ceremony

BOOKINGS ESSENTIAL - PLACES LIMITED

Te Ana (Taniwha Gully) | 9.30am - 12.30pm

Visit the Te Ana Māori Art Tour and be part of the special Welcoming Week 'Putting Down Your Roots in Te Tihi O Maru (Timaru)' native tree planting. Bring along a plate of food for a shared lunch.

Please email Barbara@teana.co.nz to register your interest and for further details as spaces are limited
Friday 8th September - Millie Rose Friday Special Cupcake

Millie Rose Boutique, 281 Stafford Street, Tu | Open 9am

Buy one of Millie's world-famous in Timaru Friday special cupcakes with a Welcoming Week twist!
Friday 8th September - Story Time at the Library

Timaru District Library | 11.30am

A special co-hosted Arabic and English story-time with our Syrian community.

Enjoy some Syrian cookies and Dubka dancing

Email: tracey.miron@pssc.co.nz
Friday 8th September - Aoraki Pasifika Community Potluck Dinner

Timaru South School Hall | 6pm

Come along and bring your family's special recipe, favourite dish or a dish

representing your country.

Celebrating Tonga Language Week and Welcoming Week

Email: sange@multiculturalaoraki.org.nz
Sunday 10th September - SC Mountainbike Club Tour

Main carpark at the Scenic Reserve (by the lake) |10am

Bring your BMX or mountain bike, children and all skills-levels welcome!

Email: scmtbclub@gmail.com
5th, 6th and 7th September - Parkside Playcentre Messy Play Fun

35 Harper Street | 9.30am – 12pm

Parents and children aged 0-6 years

Foam, bubbles, edible mud, slime and gloop!

Email parkside@playcentre.org.nz or 0276888246
Every day - Immigrant Journey Exhibition

Timaru District Library:

Monday - Friday - 9am - 6pm

Saturday - 10am - 1pm

Sunday - 1pm - 4pm
Welcoming Week Colouring In Competition

Competition to be judged by Mayor Nigel Bowen and Community Development Manager Claire Barlow.

The winners of each age category will be notified directly.

Children of Timaru District Council employees are unable to enter.

Entries close on 22nd September 2023.
Last updated: 30 Aug 2023