TDC is looking at a range of upgrades to the Seadown water scheme to improve the following aspects of the scheme:
Safety
Reliability
Efficiency
Resiliency
Sustainability
We want to know what you think – please read the information on the page and then fill out the survey for scheme customers
Contents
Background
The Seadown water supply provides water for domestic and stock use for farms and lifestyle blocks in the area between Timaru, Temuka and Pleasant Point. The water supply serves approximately 5,226 hectares (not including roads), with Timaru Airport and Ravensdown being the only two metered customers.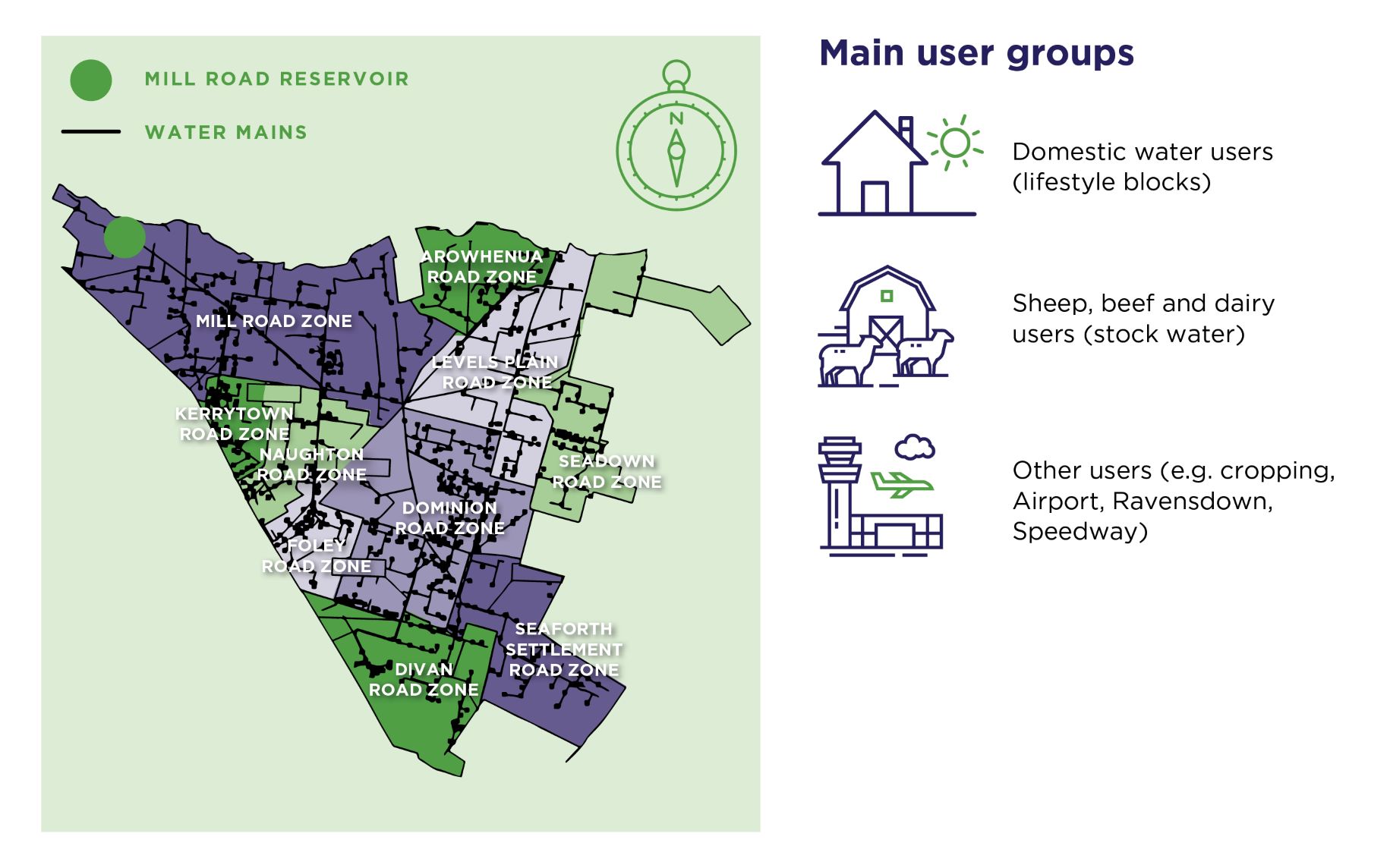 Scheme overview
5226 hectares scheme area
452 rateable properties on the scheme
612 Troughs (63% of total connections)
$28.80 per hectare (including GST) 2021/22
$713 per domestic connection (including GST) 2021/22
History
The current water scheme was developed in 1974 by Levels County Council.
It was originally an open race, later converted to pipes.
Water was originally supplied to unrestricted tanks or troughs.
Since the 1990's new connections are to restricted tanks that then supply private troughs.
Scheme assessment
In 2020 Timaru District Council carried out a technical review of the Scheme - this was delivered in October 2020.
The purpose of this project was to identify the issues, options and overall strategy for the future management of the scheme from a source to point of supply perspective.
This has been developed taking a technical approach to the problems observed and offers options for improvement.
We have summarised the key points from the report into a one-page infographic.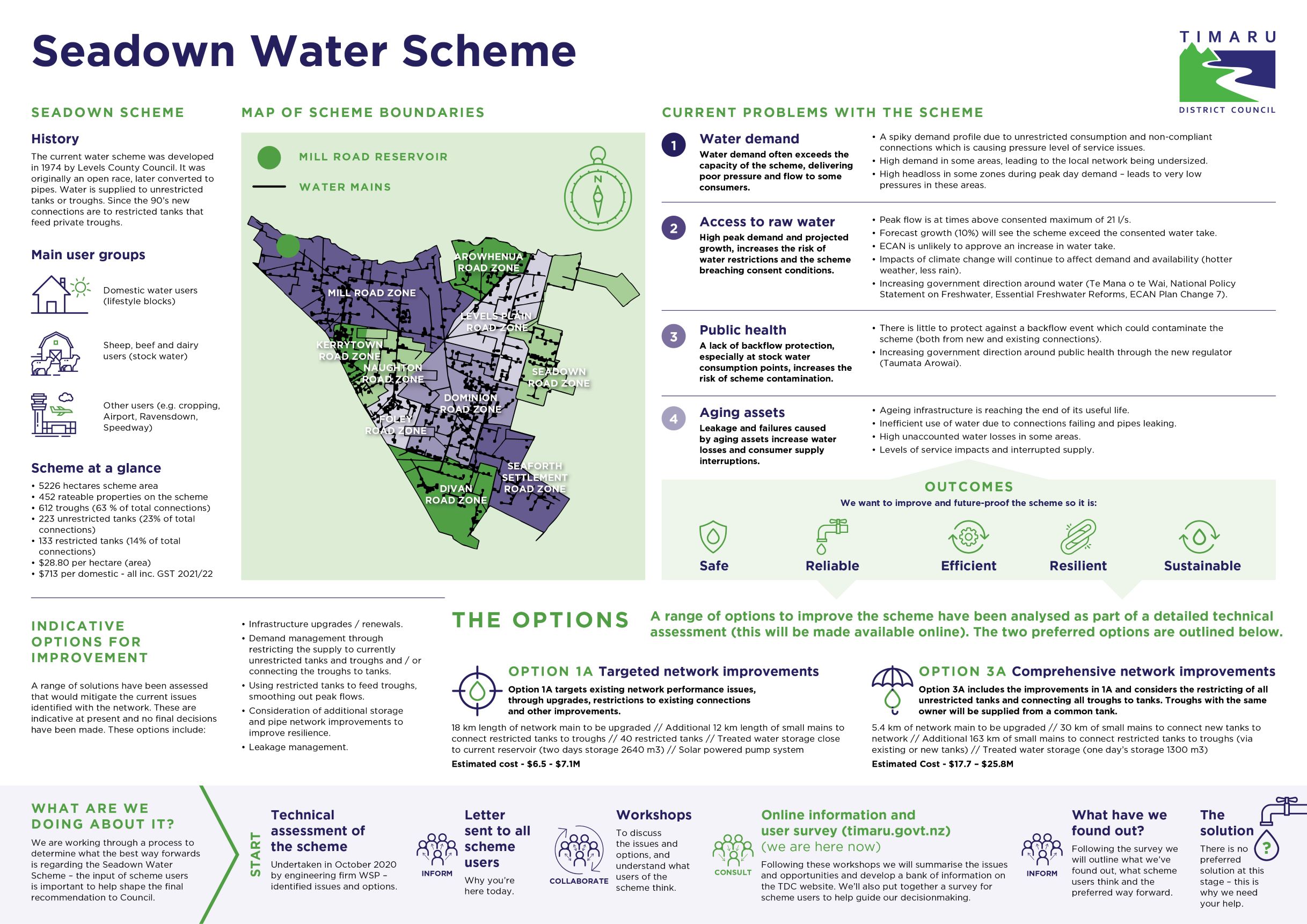 What's wrong with the scheme?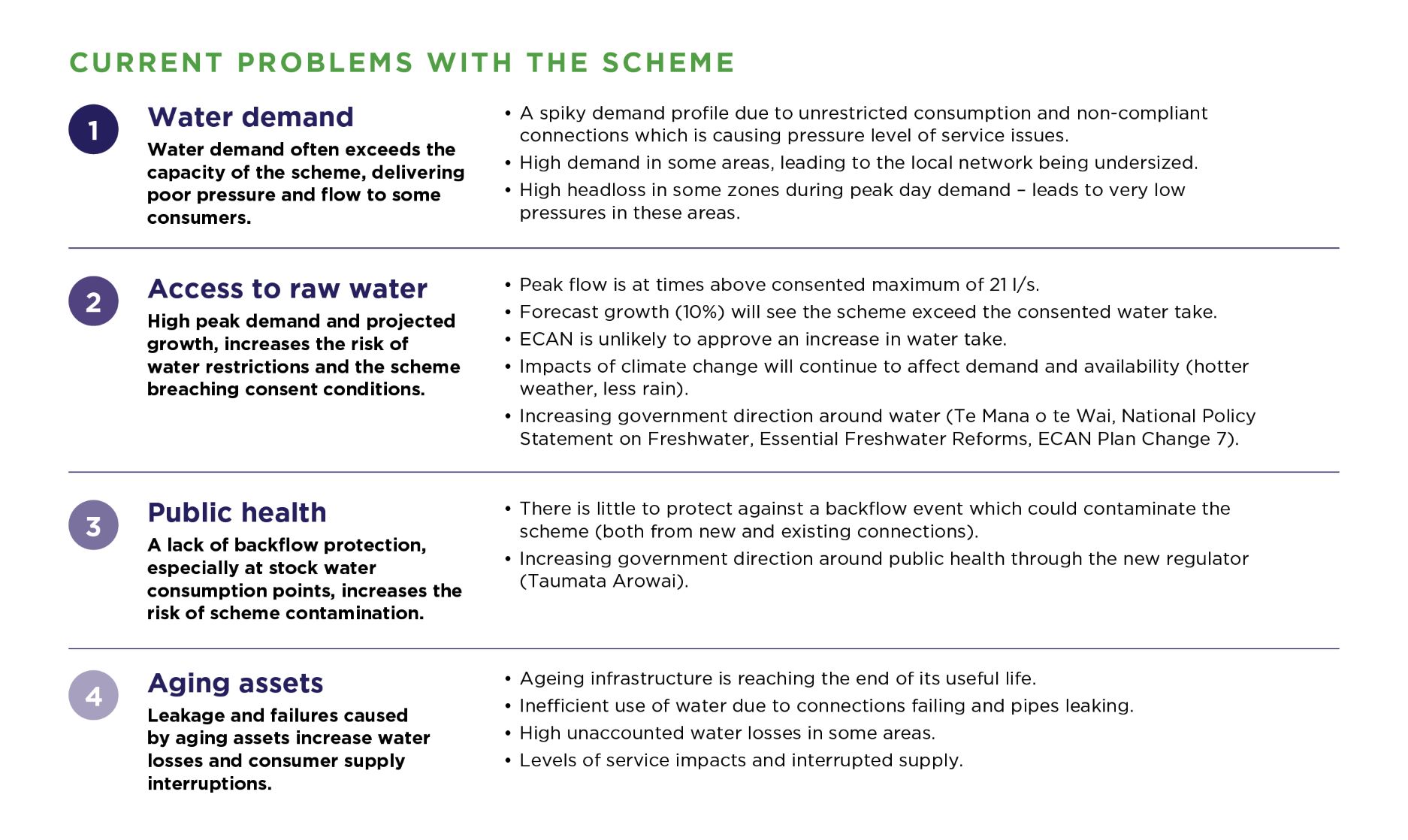 What are the options for improving it?

Option 1A: Targeted Network Improvement
This option sees improvements in the water delivery network, but little done to on farm reticulation.
This means there are still large inefficiencies across the network and inequitable outcomes, with some on restricted tanks and others on an unrestricted supply.
This option includes:
Upgrade 18 km length of network main
Additional 40 restricted tanks
Additional 12 km length of small mains to connect restricted tanks to troughs
Treated water storage close to current reservoir (two days storage 2640 m3)
Solar powered pump systems
Estimated total cost - $6.5 - $7.1M *
Option 3A: Comprehensive Network Improvement
This option includes the upgrades to the the network listed in option 1A (excluding the two days treated water storage), but also addresses on farm issues around efficiency and equity by ensuring all tanks are restricted and all troughs are connected to restricted tanks. Troughs with the same owner or within the same property will be supplied from a common tank.
Upgrade additional 5.4 km length of network main
Additional 30 km length of small mains to connect new tanks to public network
Restrictors added to 223 unrestricted tanks
Additional 163 km length of small mains to connect restricted tanks to existing troughs (via existing or new tanks)
Treated water storage (one day's storage 1300 m3)
Solar powered pump systems
Estimated total cost - $17.7 – $25.8M*
*costs are indicative only at this stage and to be used for the purposes of comparing the options. They include operational and capital expenditure over a 50 year time period as well as a 50% contingency buffer. They do not distinguish between private and 'whole of scheme' costs.
Seadown workshops
On November 4, 2021 TDC held two workshops with Seadown Scheme customers to discuss the issues with the scheme and the options for improvement. These workshops were well attended with close to 100 people attending across both sessions.
Workshop attendees were taken through the findings of the scheme assessment and were then asked to identify a range of issues with the scheme as it currently stands and then look at what opportunities there were for improvements. A summary of the issues and opportunities raised at the workshops can be accessed in the PDF below.
Seadown customer survey
We want to know what you think about the Seadown Scheme and what Timaru District Council can do to improve it. All improvements come at a cost to scheme customers, so it's important to us that you have your say and we can put together a package of improvements that offer the most benefit to its users.
On 15 December 2021, Central Government signalled their intention to mandate fluoridation for a number of water supplies nationwide. Included on this list are seven Timaru District water supplies including Seadown. Timaru District Council has not made a decision on this matter and the options above do not include fluoridation.
Click here to take part in the Seadown Customer Survey
The survey is open until 7th February 2022. We'll summarise the results and report back in early 2022.
Last updated: 17 Feb 2022