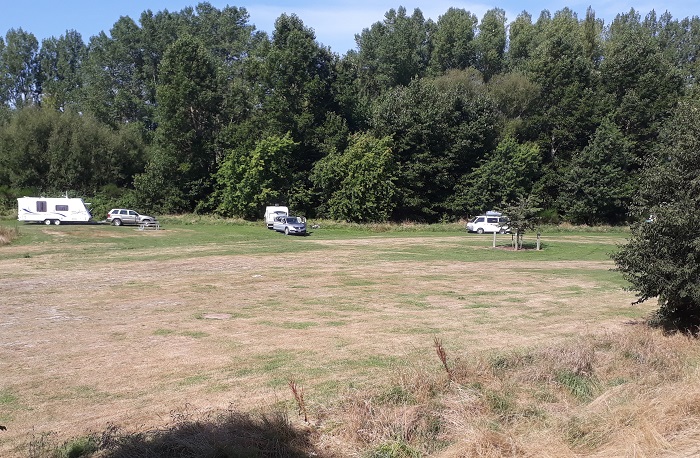 Situated next to the turbulent waters of the mighty Rangitata River. The Maori name Rangitata means 'day of lowering clouds', 'close sky' or 'the side of the sky'. The Rangitata flows south east for 121km from the Southern Alps. Forming wide braids across the vast Canterbury Plains and meeting the Pacific Ocean at the Canterbury Bight, 64km north-east of Timaru.
The first bridge across the Rangitata, built in 1872 was 1,100 feet of wrought iron trusses resting on cast iron cylinders. The northern approach was washed out in 1878 and 800 feet of timber trusses were added. In 1906 a scrub fire destroyed about 300 feet. Further timber truss replacements lasted until 1978 when the bridge was replaced with a concrete one. The original wrought iron trusses were taken to span the Taramakau River south of Greymouth on the West Coast.
Arundel Bridge was the only road crossing over the Rangitata until 1930 when the road bridges on State Highway 1 were built.
Further upstream, the Rangitata Valley was the location for Edoras from the Lord of the Rings; The Two Towers and The Return of the King.
Running between the Rangitata and the Rakaia River (to the north) is the Rangitata Diversion Race. Constructed between 1937 and 1944, the RDR takes water from the Rangitata to provide irrigation for the farms of the mid Canterbury Plains.
We appreciate your help in preserving the beauty of our District by camping responsibly and protecting our natural environment.
Please enjoy your stay.

Maximum stay 3 nights (please arrive after 4pm and leave before 10am)
Please camp responsibly:
Always use a toilet
Please don't litter
Please dispose of toilet waste sensibly
Respect your fellow campers
Be prepared
Weather in New Zealand can change unexpectedly so make sure you check the forecast for any warnings and always carry appropriate provisions.
Last updated: 16 Sep 2021