Timaru District Council has applied for a Resource Consent from Environment Canterbury to discharge stormwater from the urban areas of Temuka into the waterways and to the ground. This consent will provide overarching requirements for how stormwater is to be managed within the urban environment prior to its discharge to waterways.
We are also implementing a Stormwater Management Plan to manage, and better address, any ongoing risks. This will include an ongoing programme of monitoring, maintenance, public education and regulatory controls to limit discharges of contaminants to the stormwater network.
Click on the links below to read our full resource consent application, Stormwater Management Plan and other supporting information.
Stormwater Discharge Consent Application and Assessment of Environmental Effects
Stormwater Management Plan
Temuka Northwest Stormwater Management Plan
Timaru District Council (TDC) is also in the process of starting an assessment of the Temuka Northwest Residential development area and the area's stormwater management needs. This project will cover the following area: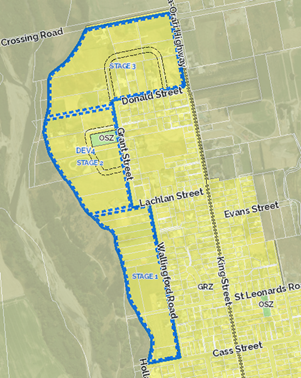 The Temuka Northwest Stormwater Management Plan (Temuka NW SMP) will establish a localised plan for managing stormwater across the Temuka Northwest Area. This area was rezoned to Residential, in a staged manner, from Rural Zoning under the Operative Timaru District Plan.
Infrastructure requirements (sewer reticulation, water supply and new roads) were considered at the time of the rezoning. The primary focus was that the sewer and roading networks would require extensions to service the rezoned land with the specified level of service.
With a greater emphasis on stormwater management taking precedent over recent years, an area focused SMP is seen as necessary for the development area. With no existing stormwater management system other than roadside swales and the use of on-site soakage systems, TDC has identified the importance to set up a SMP that will provide a community-area based response rather than a piecemeal approach as individual properties develop.
Currently, TDC is working with Davis Ogilvie Partners Limited, Aoraki Environmental Consultants (Te Rūnanga o Arowhenua), and Environment Canterbury to establish an options report on suitable management practices. All parties are striving to establish a plan that focuses on Green Infrastructure that will focus on utilizing the existing contours of Temuka NW to channel and dispose of stormwater in a manner that benefits both the surrounding community and environment.
Last updated: 26 Jun 2023