This page talks about the first Big Issue that we are consulting on as part of the Long Term Plan 2018-28 - how to achieve resilient future water supply.
Throughout the LTP consultation period, we may update this page depending on the questions being raised, so please keep checking the page for more information. If you have questions, contact us on ourplaceourfuture@timdc.govt.nz
Explore this issue interactively on our StoryMap. Scroll down, then click Water in the top righthand corner.
See below for the sections covered on this page:
Where are we at?
Background
Timaru's current water sources
Improving our use of water/Other potential water source options
Options and Preferred Option
What will these Options mean?
Frequently Asked Questions
Have your say
Supporting Documents and Links
Where are we at?
Water…water…everywhere….but is it? A resilient water supply is essential to Timaru District's future. Water is a scarce resource, and we often take it for granted. It is essential to our health, our economy, our future – we can't do without it.
This discussion revolves around the bigger picture for the district – what we should do to secure and protect our water supply for the future – the next 30-40 years. So, what's our ideal future? How much water do we need? Should we focus on securing more? Or should we save on what we currently use and delay the need for securing more water? Or……should we do both?
To secure our water future, we need to plan now and begin working towards our most sensible future investment options.
Background
Timaru's current peak demand sits on around 29 megalitres12 per day. A megalitre sounds like a lot, and it is! Around 2½ megalitres will fill an Olympic size swimming pool, so currently Timaru uses 8-10 Olympic size swimming pools of water per day!
Timaru's projected future peak day demand is around 31 megalitres per day (excluding any further industrial development). Water shortages for the Timaru supply can be an issue during dry periods, with low flows into our water sources or when restrictions are imposed on our taking of water. Issues can also occur when it is extremely wet. Our water availability can get as low as 24 megalitres per day. When this occurs, we can get through, but only through the use of water restrictions and other water conservation measures. We have had water restrictions of some form across all urban supplies each summer from 2011-2015. Maintaining our current approach will likely lead to more severe restrictions being imposed more often.
The Council must also consider how those who use these services pay for them over the period of time they use them. It should not fall to the next generation of ratepayers to pay for the current wear and tear on the asset. This represents sensible financial management.
If replacing existing assets is not sufficiently funded, the Council will have to pay for the replacement of these assets some other way, which will likely involve borrowing money later or not replacing these assets in the future.
Council's ability to take water from current sources is subject to some limits under our consent conditions and by the capacity of our current water infrastructure. Under the Canterbury Land and Water Regional Plan, community drinking water supplies have a high priority and consent limitations on taking water may potentially be relaxed in the future. This may increase our ability to take more water from these existing sources.
Other factors will influence demand for water in the future. These include:
Climate change – drier periods may mean reduced water available for use with higher risk of restrictions
Industrial and economic growth – new or expanded industry may increase the need for water and use some of the available capacity
Environmental standards – stricter standards may limit our ability to extract water for community use
Government policy – changes may impact on the treatment or management of water
Water metering – putting in place water metering will influence behaviour around water use
During the 2015 Long Term Plan process, Council consulted on securing additional water for Timaru and Temuka communities. Since that time:
Timaru - Work has commenced on planning for the replacement of the ageing Pareora pipeline, the main trunk pipeline that transports water from the Pareora River source to the Claremont treatment plant for treatment prior to distribution to consumers
Temuka's water supply was upgraded with the replacement in 2016 of the 3.2km concrete pipe portion of the main pipeline from the Orari treatment plant to Beeby Road. The discovery of asbestos in the Temuka water supply in December 2017 has meant the remaining 9km pipeline from Beeby Road to McNair Road is being replaced.
Geraldine - will be further upgraded with booster pumps to areas where low pressure could occur during high demand periods and further upgrading of the Te Moana scheme.
Pleasant Point – a new reservoir tank has been built to increase the storage capacity available, with new valves and pumps to be installed soon.
There has been ongoing programme of replacement of water pipes and other water infrastructure (e.g. pumps, valves) across the district
Early consultation as part of the development of the 2018 LTP revealed that around 55% of respondents favoured further developing one of our existing water sources and a new source and 27% favoured developing all possible water sources. There was strong support for minimising water restrictions in a dry year and planning for greater water availability due to growth.
1 A megalitre = 1 million litres
2 Includes an industrial use demand of up to 15 Megalitres per day
Timaru's current water sources
Pareora River source
The Pareora River water source is currently fully allocated, and Council cannot take anymore water from this source. This source provides our highest quality water, and requires the least intensive treatment. Work has commenced on planning for the replacement of the Pareora pipeline that transports water from the Pareora River source to the Claremont treatment plant. This pipeline was commissioned in the 1930s and is reaching the end of its life. It is planned for replacement in the next 3 years.
Opihi River source
The Opihi River water source is currently fully allocated, although Council's water assets do not have sufficient capacity to take its fully consented amount of 35 megalitres per day. Council currently takes up to 20 megalitres per day from this source, via an infiltration gallery situated north of Pleasant Point. Opihi River water requires more intensive treatment. It is likely that in times of severe drought, there would be no restrictions for Council on the use of the Opihi River for community drinking water purposes, up to 35 megalitres per day. However, taking more Opihi River water would mean we would need to upgrade the intake infrastructure and water treatment facilities, which will cost several million dollars.
While we are likely to be able to take more water from the Opihi River in the future, this will be tempered by ensuring we have some sort of demand management plan in place, such as a clear plan as to when water restrictions would be introduced or water metering in communities that receive the water.
Improving our use of water/Other potential water source options
So what are the options for Timaru's future water supply?
Water Metering
One way of increasing the efficiency of use of the existing water supply is to introduce water metering. This would involve applying a volumetric charge to water use rather than the current system of charging each household a flat rate. This potentially could reduce peak day demand between 3-5 megalitres per day, and would delay the need to secure additional water in the short to medium term.
Water metering would apply across the district's urban townships to ensure consistency to charging for water for all urban communities. It would challenge behaviour around the use of water, as using more water would result in higher costs for individual properties. Studies show implementation of water meters can reduce consumption by 15-30%.
Water metering has a number of potential benefits. Environmental benefits include reducing the amount of water we take from river systems, minimising the environmental impact of water projects and reducing wastewater volumes (as a lot of water used discharges to wastewater systems).
Water metering has a number of potential benefits to consumers and to the Council, including:
Raising consumer awareness on the use of water and providing an incentive to conserve
Promoting the value of water
Improving the fairness of charging for water – i.e. high water users pay more for what they use
Deferring capital expenditure
Improving how the water network is managed
Controlling water loss
The method of charging for water still needs some work. Options include:
charging a flat charge for everyone, and then a unit charge above a certain level
charging based solely on individual use
spot pricing where a higher sum is charged based on water availability
For many people, water metering charges will not have a large impact. Currently, you already pay for water through a separate charge in your rates. Water metering charges would vary according to the amount of water you use, and would replace the charge in your rates.
Ultimately, water metering would need to cover the costs of providing the water network. Many areas in New Zealand have water meters which has led to an overall reduction in water use.
Installation of meters would aim to use the smartest technology available to ensure their ongoing management was cost effective.
Opihi River intake upgrade or Groundwater bores
These options would add to the existing water available to Timaru. The Opihi River intake could be upgraded to access more of the water available to us or new groundwater bores could be drilled. Both options are costly. Bores may be difficult to locate and any new development would have to meet regulations. The water from bores would likely require significant treatment to remove hardness, iron and manganese.
Hunter Downs Irrigation scheme
The Hunter Downs irrigation scheme is a community irrigation scheme proposal developed by the South Canterbury Irrigation Trust and Meridian Energy. The scheme plans to take water from the Waitaki River to irrigate land between Waimate and Timaru. The scheme has significant potential economic benefits for the South Canterbury region, should it come to fruition.
Potentially, the Council could tap into the scheme to secure future water for Timaru, with up to 35 megalitres potentially available. This would cost several million dollars for infrastructure development including a pipe network and pump stations, as well as additional treatment costs.
At this point, Council has decided not to formally be part of the scheme. This doesn't stop the Council from being part of the scheme into the future.
Alpine Water opportunities
Investigations by some parties are ongoing on the possibility of securing water from Alpine sources such as Lake Tekapo. This would involve significant cost and work but does have the potential to secure significant quantities of water for the future.
So, where to from here?
Options and Preferred Option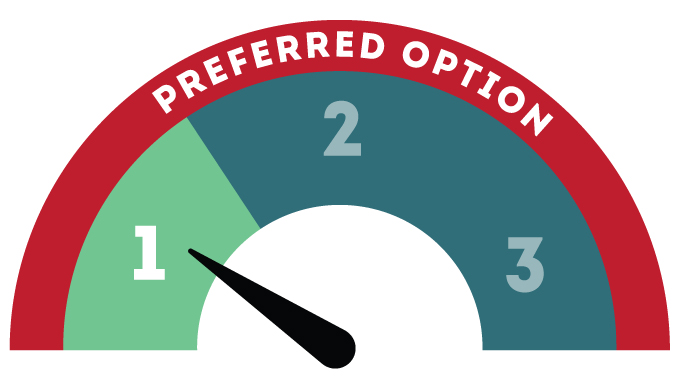 What will these Options mean?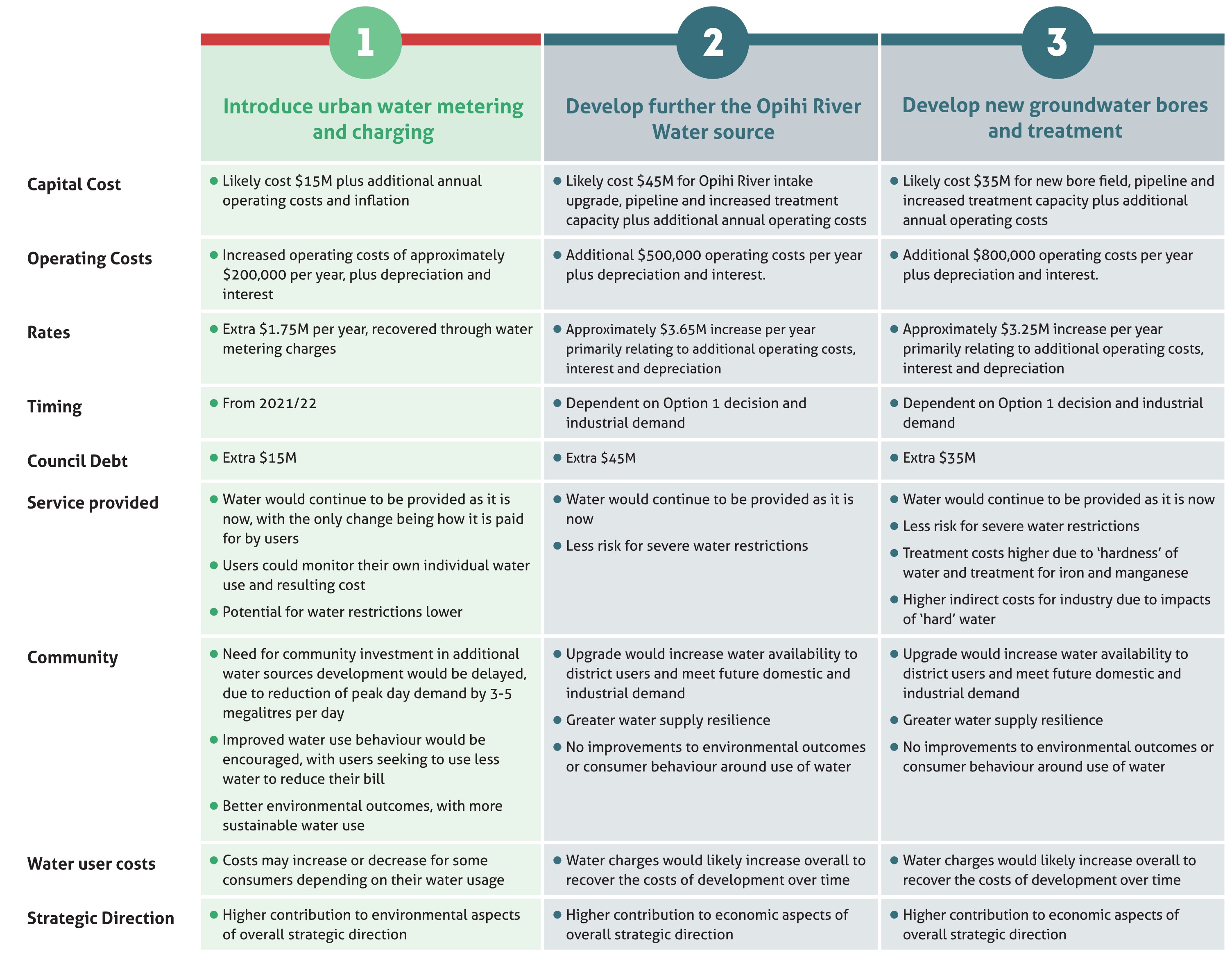 Frequently Asked Questions
Why should I have to pay for water? What about all that water being used by farmers? Often you see irrigators working when it's raining!
Any water being used for irrigation is not linked to Council systems used for providing potable water. Farmers have consents obtained from Environment Canterbury to use water.
Water Metering is just a money grab. You just want to make money off water! Isn't that right?
The Council does not make any profit off water. Any money received is used to run the water supply network. This can include work like maintenance of water supply infrastructure, treatment of water, replacement of pipes or valves. It also includes development and provision of the water supply network to meet future needs such as the development of water storage (e.g. reservoirs).
This is Timaru's problem. Why should I have to have metered water in Geraldine/ Temuka/ Pleasant Point?
Everyone currently pays a flat charge through their rates for water supply. This applies to urban communities who receive water. If water metering was introduced, to ensure fairness it would need to apply the same way. However, you would only pay for the water you use, which could mean you pay less or more than you do now.
What does 'hard' water mean?
Hard water does not go 'soapy' (or lather) easily, and usually has a high mineral content.
What's an infiltration gallery?
A perforated pipe located in gravels next to a stream/river so that water can be taken.
Water metering would mean I would pay more for my water?
This is possible depending on the amount of water you use. However, you would also be able to monitor and limit your water use to pay less for water.
Water metering would mean I would pay twice for my water?
Not true. If water metering was introduced it would replace the water charge in your existing rates bill. It would not be in addition to it.
Water is my right? Why should I have to pay for it?
You have always paid for water through your rates. It has never been a free service.
Where's my water come from?
Urban Supplies
| Town | Source and Treatment |
| --- | --- |
| Timaru | Sourced from the Pareora and Opihi Rivers. It is then treated at the Claremont treatment plant and piped via an underground pipe network to the Timaru urban area. |
| Geraldine | Sourced from deep wells near the Orari River. Water then goes through an ultraviolet (UV) light chamber for treatment before being pumped into a reservoir located within the Talbot Forest Reserve, then supplied to the Geraldine network. |
| Temuka | Sourced from bores located at Temuka and Orari. It is then piped to the reservoir where it is chlorinated on entry. As the water leaves the reservoir it passes through UV light treatment on its way to the Temuka reticulation network. |
| Pleasant Point | Sourced from shallow wells in Halstead Road. Water goes through UV light treatment before entering the pipeline to the Pleasant Point reticulation. |
| Peel Forest | The water is piped from a spring through a small treatment plant, where it goes through UV treatment and chlorination, then into a storage tank. It is then gravity fed down the main road and into Dennistoun Road. |
| Winchester | Treated water is supplied from the Temuka Water Supply to the Winchester Reservoir for supplying to Winchester consumers. |
Rural Water Supplies
Supply
Source and Treatment
Downlands Water

Sources

The Tengawai River intake supplies the majority of the Downlands Water Supply
The Waitohi intake (Opihi River) supplies the area north of the Opihi and Tengawai for approximately 6 months of the year
The Cameron's pump station takes water from the Timaru Water Supply pipeline at Pareora River during peak demand periods only
The Pareora township supply is sourced from shallow ground water and supplies the Pareora township only
The Springbrook supply is from groundwater source and supplies Springbrook and St Andrews

Treatment

The supply to the Rural Zones (Tengawai, Waitohi and Camerons) is chlorinated.
The supply to the Pareora township is UV treated and is also chlorinated.
The supply to Springbrook and St Andrews is chlorinated.
The Hadlow zone is supplied treated water from the Timaru Water Supply.

Orari
Treated water is supplied from the Temuka Water Supply
Seadown
Seadown's water comes from a shallow well in Mill Road near the Opihi River. It is treated with chlorine and ultraviolet (UV) light. UV kills bacteria and protozoa. Chlorine prevents contamination in the pipes.
Te Moana

Te Moana's water comes from the intake in the Hae Hae Te Moana River. The Scheme takes surface water which passes through a rapid sand filter removing the majority of the sediment within the water. The water is then chlorinated to kill bacteria. During high demand periods water, is also supplied from the Geraldine Water Supply to the area just north of Geraldine. That water supply is treated by ultraviolet light which kills bacteria and protozoa but is not chlorinated.
Have your say
Want to have your say? Click here
Supporting Documents and Links
Last updated: 12 Apr 2021