In this section
Long Term Plan 2018-28 Adoption
Council adopted the Long Term Plan 2018-28 on Tuesday, 26 June 2018.
A summary of the LTP consultation and decisions made on the Long Term Plan can be found below:
MInutes relating to the Hearing and Adoption meeting can be found below:
The Final Long Term Plan 2018-28 document can be found below:
Council is grateful to all those who contributed and gave feedback on the Long Term Plan 2018-28.
Long Term Plan 2018-28 Hearing and Submissions
Information on the Long Term Plan Hearing can be found here.
Submissions have closed. Thanks to those who gave us your feedback. You can read the submissions and Officer Comments on the submissions received here.
It's here…
Consultation on the 2018-28 Long Term Plan (LTP) has opened, with the release of our LTP 2018-28 consultation document.
Consultation Document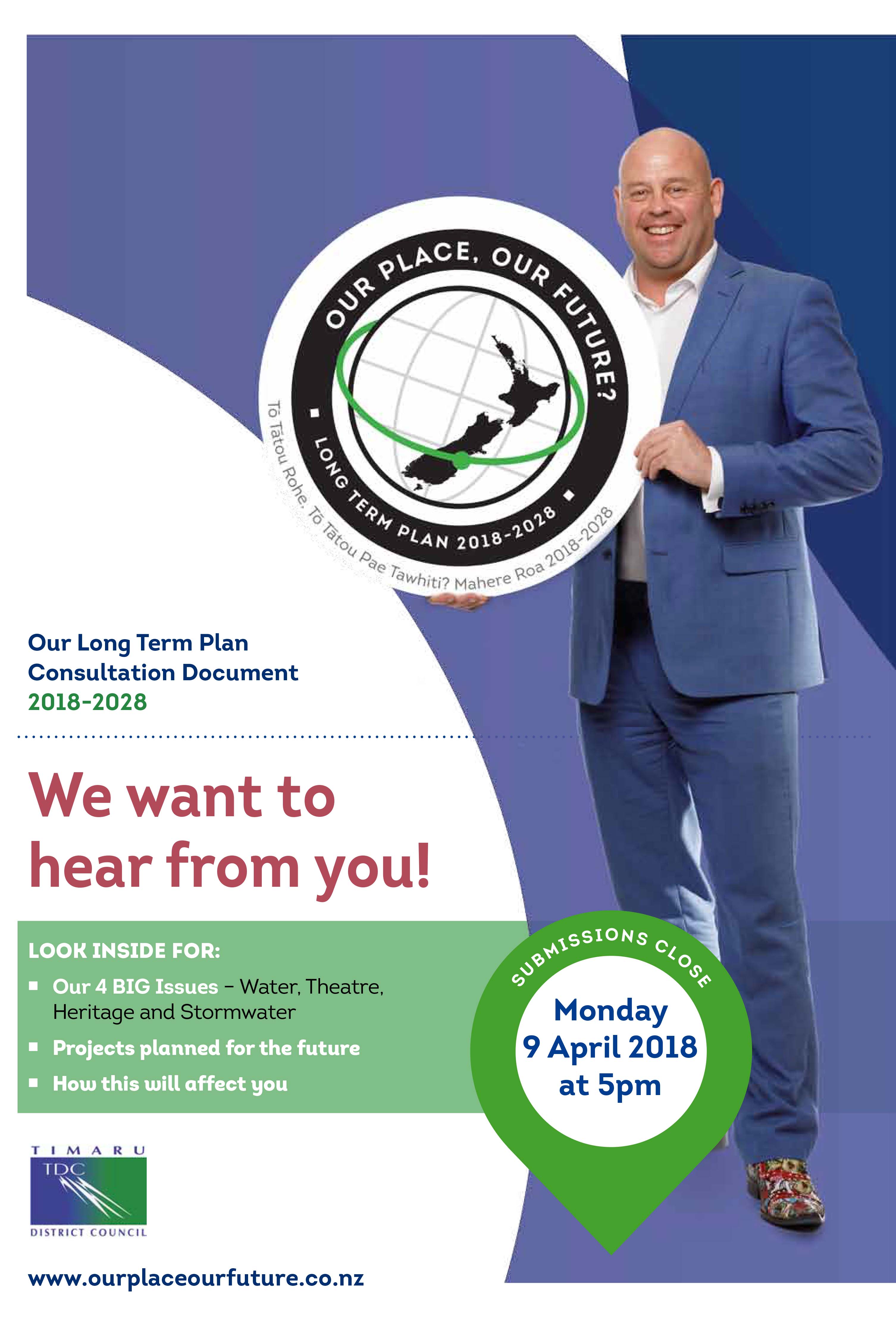 Our consultation document 'Our Place Our Future?' should have arrived in your mailbox with The Courier newspaper on March 8.
If you did not receive a copy, download it below or check out our interactive version:
Check out our big issues interactively with StoryMap
There are also a number of webpages dedicated to LTP information. Click on the links to go directly to them:
Have Your say
Submissions have closed. Thanks to those who gave us your feedback. You can read the submissions received here.
We want to hear your views. You can submit on the issues highlighted or anything to do with the Long Term Plan.
Remember to let us know if you wish to speak to your submission at a Council hearing to consider the plan. Please include your contact details. Hearing of submissions is planned to start on Monday 30 April 2018.
Comments are welcome on the plan from Thursday 8 March to 5pm, Monday 9 April 2018.
LTP 2018-28 Supporting Information
There are several documents that support the LTP Consultation Document and the Long Term Plan. These documents contain more detailed information. Download the full document below:
Or view the document you are interested in below:
Explanation of documents
Supporting Info - Introduction - Overview of what is included in the supporting information
Infrastructure Strategy 2018-68 - Council's 50 year plan for key infrastructure assets in roading, water supply, sewer, stormwater and waste minimisation, including issues, planned projects and financial information
Financial Strategy and Projections for 2018-29 - Council's proposed financial strategy that forms the basis for the financial direction of Council and overall financial statements, including the Balanced Budget statement and Funding Impact Statement
Groups of Activity Statements - A summary of Council's activities (e.g. Roading, Libraries) including a description of what is provided, why we provide it, the services provided, how we measure performance, planned projects over the next ten years and financial information.
Significant Forecasting Assumptions - Key general and financial assumptions on which the Long Term Plan is based.
Financial Contributions Policy - A summary of the existing Financial Contributions Policy provisions.
Revenue and Financing Policy - This policy sets out the Council's funding philosophy and how the Council will fund each of activities and explains why
Rates Remission and Postponement Policy - These policies define the circumstances in which the Council may remit or postpone rates
Rates Discount Policy - This policy allows for a discount for the early payment of total rates for a rating year
Proposed Fees and Charges 2018/19 - These set out the Proposed Fees and Charges for Council activities for 2018/19
All of the documents are also available at the main Council office, service centres and libraries throughout the district during the consultation period.
Council Minutes
See below for Council minutes relating to the LTP process
Key Dates
Key dates for the LTP 2018-28 consultation process are:
| | |
| --- | --- |
| Thursday 8 March | Consultation period and Submissions open |
| Monday 9 April | Consultation period and Submissions close at 5pm |
| Monday 30 April – Wednesday 2 May | Long Term Plan Hearings (days as required) |
| Tuesday 26 June | Final LTP 2018-28 adopted by the Council |
For further info, contact us at ourplaceourfuture@timdc.govt.nz
Last updated: 12 Apr 2021