What's in your green organics bin?
Your green organics bin is the place to put your garden and food waste. This includes compostable material such as lawn clippings; coffee grounds; leaves; and pizza boxes.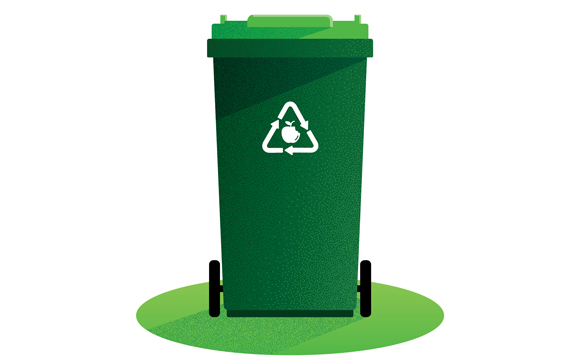 These items GO in your green bin

Food waste e.g. coffee grounds, eggshells, fish, fruit and vegetable scraps, cheese, meat (raw or cooked) and tea bags.
Garden waste e.g. branches, flowers, leaves, weeds, and untreated wood.
Cardboard pizza boxes and fish and chip paper - put any plastic pieces in the red bin.
Paper handtowels, newspaper, tissues, serviettes and non-brightly coloured shredded paper.
Animal droppings (wrapped in paper), animal fur and hair.
Tips:
Place a stick under the lid in summer to prevent grass fires.
The following should NOT go in your organics bin:
Plastic bags, wrap, strapping or plant pots.
Fast food wrappers , bags and boxes with a plastic or wax coating. These go in your red bin.
Ash (this can go in red bin)
Treated wood, sawdust, wood shavings, large logs or stumps.
Lawn clippings which have been sprayed with herbicides.
Bricks and concrete.
Flax, palm, cabbage tree and rhubarb leaves.
Gravel and dirt/soil/
Metal objects.
Still not sure what goes in your recycling bin? See a comprehensive list and a handy pamphlet below, or see the sticker on the underside of your bin lid.
Last updated: 22 Jun 2021