What's in your red rubbish bin?
It's important to think about what goes in your red bin because some items can become dangerous when added to landfill. Items such as car batteries, electronic devices and paint are hazardous and need to be taken to your local Transfer Station.
Household rubbish must be placed inside your red bin, not beside or on top of it.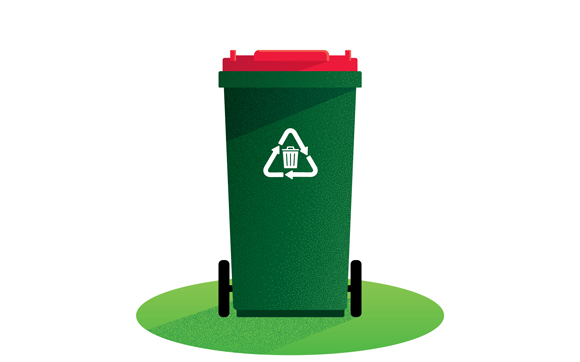 These items GO in your red bin

General household waste e.g. crockery, old clothes, crayons, takeaway cups, toothpaste tubes, cigarette butts and disposable cutlery.
Lids from bottles and containers.
Disposable nappies and sanitary items.
Animal droppings (wrapped in plastic or biodegradable bags).
Fast food wrappers, bags and boxes with a plastic or wax coating.
Polystyrene and Styrofoam (this can also be taken to a transfer station to be recycled).
Soft plastic wrappers and bags.
Brightly coloured shredded paper.
Plastic strapping, ties and tubing.
Biodegradable bags or products.
Flax, palm, cabbage tree, and rhubarb leaves.
Lightbulbs, drinking glasses, windows, and mirrors, (Ecobulbs must be taken to a transfer station).
Foil trays
Ash (cooled for seven days)
Tips:
The weight of your bin must be 80kg or less to be collected.
Still not sure what goes in your recycling bin? See a comprehensive list and a handy pamphlet below, or see the sticker on the underside of your bin lid.
Last updated: 22 Jun 2021