Stormwater drain marking
A project to protect drains from pollution
Stormwater drain inlets in our community are being marked with an important message "Drains are for rain only". Storm drains lead to local streams or groundwater, changing our waterways.
Marking storm water drains helps raise awareness about the link between the storm drain system and water quality. Pesticides and garden chemicals, soap from car washing, pet waste and oil from cars all get washed off lawns and streets and into our water.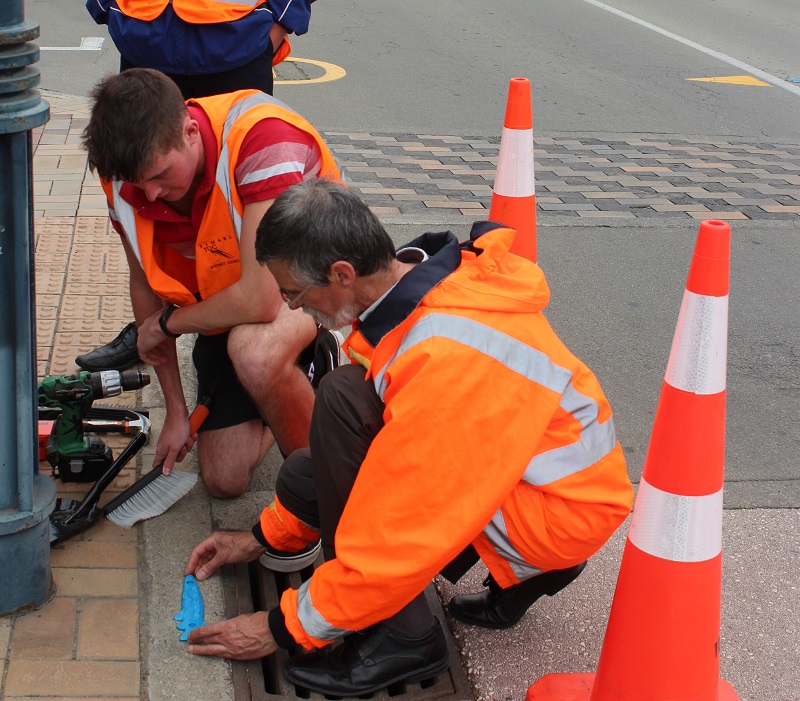 How can I get involved?
We're wanting community groups throughout the district to get involved and spread the blue fish everywhere there are stormwater drains. It's a fun task that can make a real difference to your local environment.
The council has assembled a Blue Fish Kit that enables anyone to add blue fish to drains in their local environment.
Choose a location - Identify a neighbourhood near you with storm water drain inlets.
Canterbury Maps has storm drain location information.
Reserve a storm water drain marking kit - Contact the Timaru District Council (TDC) Drainage and Water Unit on 03 687 7200 to reserve a kit for your project
Review the marking kit information - Including installation guidelines, equipment list, safety instructions and project tracking form. Contact TDC Drainage and Water Unit with any questions.
Project set-up - Prior to starting work, review all the safety instructions with your volunteers, have them sign the volunteer agreement and review your work plan for the project (how many sites, where location, roles and responsibilities).
Complete your project - Ensure that everyone has their safety gear on and all instructions are followed, so this is a safe and fun outing.
Return the kit and all materials in the assigned box. Review the checklist to make sure all equipment is included.
Return tracking and volunteer forms to Council office or service centre.
Full instructions for drain marking can be found here.
How to order a drain marking kit
Last updated: 09 Mar 2022