MyWay on Stafford Street
What is MyWay by Metro?
MyWay by Metro is on-demand public transport, that takes you wherever you'd like to go. It is an environmentally friendly, convenient, economical transport choice.
We want to celebrate the service and encourage riders right into the heart of Timaru's Stafford Street shopping and business area. Until the Stafford Street parklet was installed, MyWay customers were picked up and dropped off from nearby side streets. The dedicated stopping bay means that MyWay by Metro vehicles could now access Stafford Street.
On March 7th 2023, the parklet was installed on a trial basis on Stafford Street outside of Farmers. The stopping bay and seating area is a relocatable structure that can be moved depending on feedback from the community during its trial.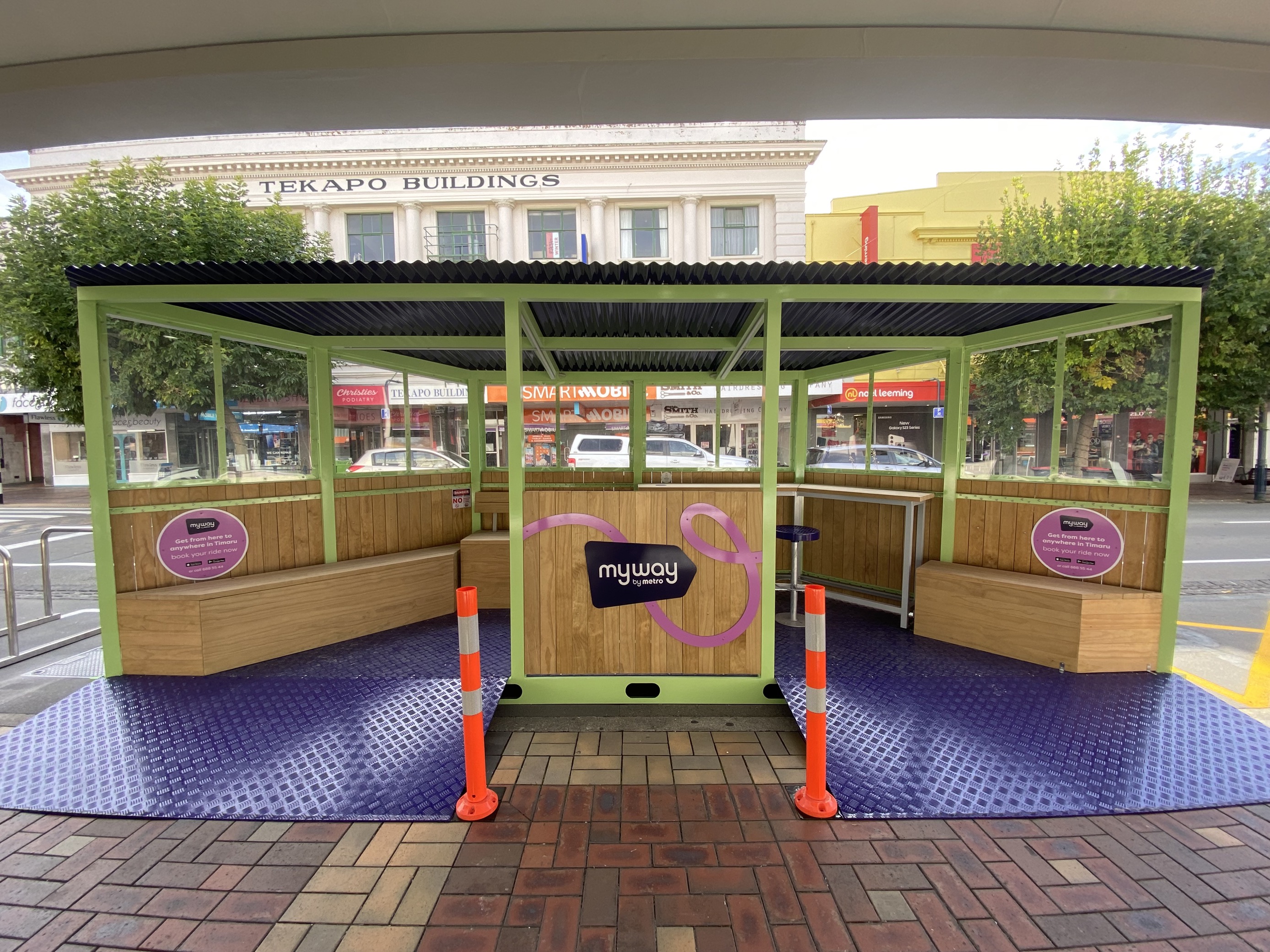 October 2023 Update:
The parklet has had effect of drastically increasing demand for the service. With the success of this trial evident to the community we are in the process of planning the transition to a permanent MyWay by Metro stopping bay on Stafford Street.
MyWay by Metro are also currently running a survey asking for community feedback on extending the service hours during the summer as well as extending the service by adding a stop down at Caroline Bay.
---
This project has been supported by the Waka Kotahi Transport Choices Package.
What is the Transport Choices Package?
To create healthier, safer and more equitable environments across Aotearoa New Zealand - we have to shift how we travel. So, the Government is investing $350 million to create greater transport choices for people across New Zealand, via the Transport Choices package included within the Climate Emergency Response Fund. Transport Choices is an ambitious programme of work that will help reduce emissions from transport and create fairer, safer and healthier environments for people to live, work and play across the country.
Last updated: 15 Nov 2023