We live in a wonderful part of the world and enjoy being surrounded by mountains, lakes and the sea. Sometimes we become complacent about our limited supply of natural resources such as our water.
Water in our area is a precious resource that could be in short supply during our hot dry summers.
So to help us keep the water flowing over summer there are some simple things that people can do both inside and outside the home that can help to conserve water.
When to Water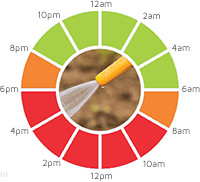 So that we can continue to supply water to urban and rural households over summer please don't water your lawns, and keep an eye out for changes to the current level of water restrictions. We all need to work together to conserve water.
Don't water between 8am and 6pm daily.
Check weather conditions before watering.

Watering your garden during hot days or when a Nor' West is blowing results in a lot of water evaporating and watering in these conditions is not recommended.

Water wisely for limited periods between 8pm to 6am.
Inside the House
Take shorter showers
Check for leaks
Turn off taps
Use a dual flush toilet
Install flow restrictors
Use dishwasher & washing machine on a full load
Outside in the Garden
Use a good mulch
Remove weeds
Use a sprinkler with a timer
Soak, don't spray
Don't water paths or driveways
Water the roots and not the leaves
SMART Watering
Timaru District Council, alongside other Canterbury Councils, industry partners and Irrigation NZ have collaborated together to form the SMART Watering campaign to help you conserve water during the drier periods.
The SMART Watering campaign, developed by Irrigation NZ, provides home gardeners and community irrigation projects with practical information to make the best use of their restricted water supply during hot, dry summers.
You can find out more about the campaign on the SMART Irrigation website.
SMART Watering Tips
Below are a series of information sheets with tips on SMART watering in your garden.
Case Studies
SMART waterers can already be found in the community who are using water responsibility and sustainability in their gardens and businesses.
Michael & Karlyn Hopkinson
Michael & Karlyn Hopkinson's garden is an excellent example of using water in SMART ways as they have carefully thought out watering system on a timer provides application to specified spots in the garden with drip hoses and sprinklers in short bursts when needed.
Let us know if you have any useful water saving tips on our Timaru District Council Facebook page.
Last updated: 24 Feb 2021