Published: 01 Jun 2023
DOWNLANDS UPDATE 15.45
All consumers are now receiving water and we're expecting to be back to normal by tomorrow.
Please continue to monitor to your water usage and use water prudently over the next 24 hours to assist the network in its recovery.
---
Update 11.45 - 1/6/23
Contractors were on site last night and they have fixed the problem so the water main is beginning to refill again. They have also ordered some backup parts in case there is another incident of this type.
We are currently recharging the system, so will have an update later this afternoon.
Due to the size of the scheme it will take a while to be delivering water to everyone across the network once again, so please continue to conserve water until further notice.
---
Timaru District Council wishes to advise that due to pipeline maintenance we've had to shut off the Downlands watermain.As a result, we are asking Downlands customers to please conserve water if you live in one of the highlighted areas on the map below. All of you will have at least three days storage, but we will not be delivering water to properties in the areas highlighted below until the work is complete, so please conserve it.Areas that do not need to conserve water are: Albury, St Andrews, Pareora, the northern side of the Opihi River (i.e. Waitohi) and Hadlow.We will keep you updated as to the progress of the repair works here and on Facebook.Please share and pass this message on to friends, family and neighbours who many not have access to our website.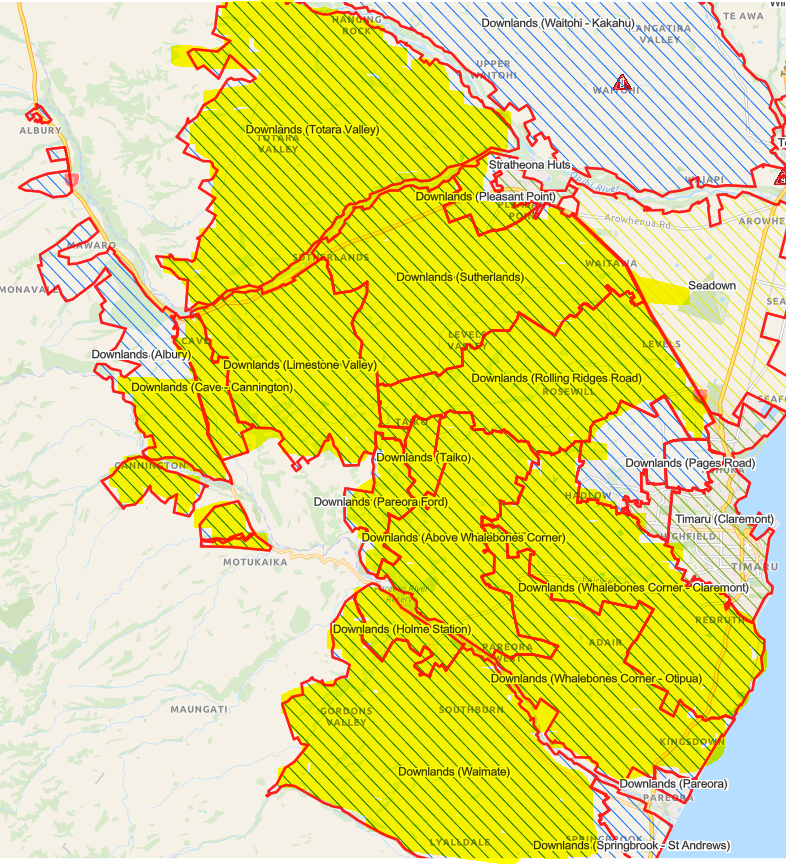 Last updated: 02 Jun 2023