Published: 21 Aug 2021
Rates invoices for Timaru District Council and Environment Canterbury will be getting emailed and posted out next week, with the first instalment due on 20 September 2021.
Rates are the way that everyone pays for those essential community services that we all use every day. When most of you turn on the tap, drive on a local road, flush the toilet or go for a socially distanced walk in the park, you're using a service you've helped pay for.
As part of the Long Term Plan we consulted on earlier this year, the overall total amount of rates collected by the council has increased by 11.5%. Your individual rates bill may have increased by more than this or less depending on a number of factors.
These include things such as the services you receive at your property and how much your land value has increased compared to other properties.
We've got a full guide to rates, how we calculate them and what they pay for on the website here: https://www.timaru.govt.nz/services/rates-and-property/rates-information
Rates - paying for your community services
Rates are one of the ways that Councils are funded to carry out work on behalf of the community and to provide the services you use every day. Council is empowered to set rates by the Local Government Act 2002.
An average residential property in Timaru District pays about $51 a week for all its roads, water, sewerage, rubbish collections, parks, street lights, libraries, museums and art galleries. This is about the same as an average house in New Zealand pays for electricity alone.
There are several components to your rates bills.
General Rate

The general rate is based on the land value and the use that the land is put to. (outlined in differentials section below)

Uniform Annual General Charge(UAGC)

A flat charge paid by all ratepayers to make a minimum contribution to Council costs.

Targeted rates

This rate is based on the services that are connected to the property or that are provided to you. If you don't receive these services, such as kerbside rubbish collection or sewerage service, you don't pay for it.

Regional Council Rates

The rates charged by Environment Canterbury appear on your invoice but are set independently by them.
What is a Uniform Annual General Charge (UAGC)
The UAGC covers the cost of providing community amenities, such as libraries, swimming pools (including Caroline Bay aquatic
centre), parks and the cost of governance and leadership, civil defence, environmental health, the roading
network, street lighting, road/streets landscapes refuse disposal, footpaths, dog control, economic development
and promotion, property costs (non commercial), and the airport. It is recovered from all ratepayers in the form of a
uniform annual general charge assessed as a fixed amount per rating unit.
What do General Rates Cover?
General rates cover the portion of Public Responsibility, Arts and Community Amenities, Civil Defence, Environmental Health, Road and Street Landscapes, Economic Development and Promotion and Airport costs not covered by the UAGC. Costs associated with the roading network, street lighting, refuse disposal services, dog control, building control, district planning and non-commercial property costs. It is recovered from all ratepayers within the District in the form of a general rate levied on the Land Value for the property, based on the type of property.
What are Targeted Rates?
Targeted Rates are charged for a specific service through a tax on each rateable unit or separately used or inhabited portion of a rating unit to ensure that the cost of a service or activity is covered by those who use the service, or who contribute to the need for the service or activity. This includes a varety of things, the most common being kerbside rubbish collection, water and sewer services.
Some councils charge separately for these things, such as through 'pay per throw' rubbish bags or metered water bills, but in Timaru District all services are included in the overall bill.
What are Regional Council Rates?
These are rates collected by us on behalf of Environment Canterbury, we do this to make things easier for you so you only have to pay one invoice and it's more efficient to only send out one bill. It also makes it cheaper for you, as it saves Environment Canterbury having to pay to print and post invoices.
There are some important points to note about these:
Timaru District Council does not set these rates, they are set by Environment Canterbury.
They are charged on a capital value basis, not land value as we do.
Any increases advised by Environment Canterbury apply only to this part of the bill.
For more information about Environment Canterbury rates, visit: https://www.ecan.govt.nz/your-region/plans-strategies-and-bylaws/long-term-plans/your-rates
How do we calculate each individual rates bill?
While everyone pays the same UAGC, there are several items that we use to calculate the rest of your overall rates bill.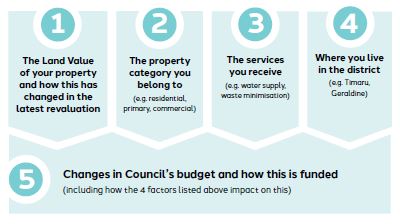 Land Value: This is used to calculate the variable parts, this is independently revalued every three years. If your land value goes up more than similar properties in your area this can lead to an increase in your rates bill.
The property category you belong to: residential properties pay less per dollar of value than commercial properties, but they pay more per dollar of land value than rural properties, this ensures everyone pays a fair share of the overall bill. (see What are rating differentials? below)
The services you receive: This is where you pay a specific charge for a specific service such as bins, drinking water or sewage. This is usually calculated on a per unit basis.
Where you live: The townships pay slightly different amounts of general rate to cover the different cost of supplying services in those areas. Rural areas pay significantly less as they don't get services such as footpaths and street lighting.
Changes in Council's budget and how this is funded: This is the overall amount you often see rates rises quoted as. While the overall rates rise may be 4.9%, everyone's split of this will be different depending on the other items above, so you may get a higher rates rise, you may get a lower rates rise.
Not included in this are the rates you pay to the regional council. Although they appear on the same rates bill, all the charges are independently set by them.
What are Rating Differentials?
Differentials are used to fairly allocate the General Rate to different property categories. Council's policy is to ensure each property category pays about the same overall proportion of the General Rate every time a property revaluation occurs.
Council believes that the current split of the General Rate 'pie' is fair to everyone.
To reflect and maintain this split following the 2020 revaluation, Council has set the differentials for the LTP as the table below shows.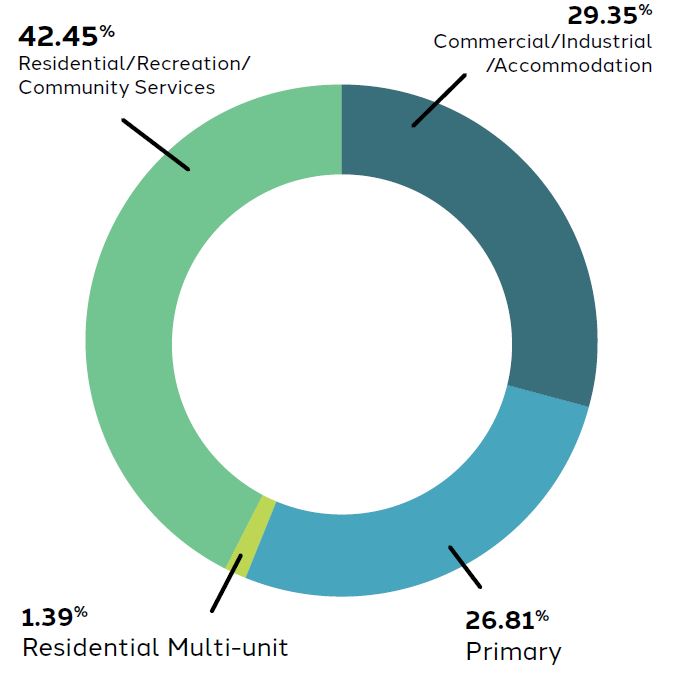 What is driving my rates increase this year?
Timaru District Council's Long Term Plan outlined the range of capital works projects and improvements we have to deliver over the next 10 years, we need to progressively increase the amount that the council receives in rates and grants each year to ensure that we don't fall behind in keeping our essential services up to standard.
There have also been increases to the cost of running council (Minimum wage increases, new positions to support councils operations, increase in the cost of carbon credits), as well as increases in the inputs we require such as building and roading materials.
Increases in revenue also enable us to borrow more to deliver significant projects such as the Pareora Pipeline Renewal and upgrades to our roading infrastructure and community projects such as the Theatre Royal and Museum and Aorangi Park Upgrades, as wel as support for community projects such as CPlay.
There is an increase to the Uniform Annual General Change (UAGC) , This is the flat charge that all ratepayers pay covering a variety of Council services. In 2022/23 the UAGC will increase from $870 to $925 per property.
Land value is also a factor impacting the rates. Council had the land revalued in 2020. If your land value increased more than similar properties, it will have also increased your property rates.
Can I get a discount if I pay my Rates early?
Council policy does not allow discount of rates for any reason.
Where do my rates go?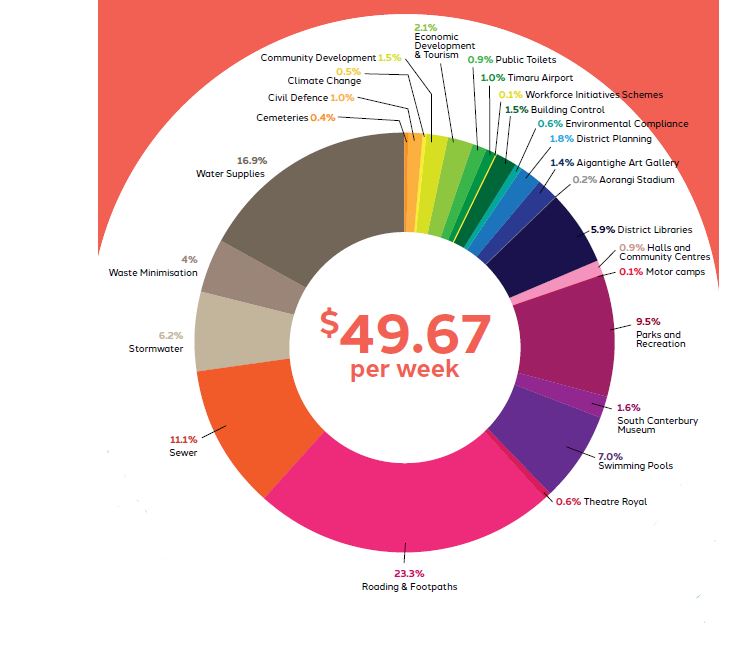 The majority of rates, nearly 62%, goes towards the cost of major infrastructure: three waters, roads and waste. The other 38% goes on all the other culture and leisure services, support functions and regulatory support.
When are my rates due?
Rates and charges (except for metered water) are due and payable in four equal instalments on the following dates:
| Instalment | Due Date |
| --- | --- |
| 1 | 20 September 2022 |
| 2 | 20 December 2022 |
| 3 | 20 March 2023 |
| 4 | 20 June 2023 |
What are those other items on my bill?
Community Works and Services Rate
Covers the cost of community activities, such as non subsidised roading (footpaths), stormwater drainage and community lighting, is recovered from the community in which the service is provided in the form of a separate community works and services rate levied on the Land Value of the property.
Uniform Community Board Charge
Uniform Annual Sewer Charge
The cost of providing sewerage disposal is recovered from those ratepayers who receive the service in the form of a uniform annual sewer charge. This charge is averaged over the district.
Uniform Annual Waste Management Charge
The cost of providing refuse collection is recovered from those ratepayers who receive the service in the form of a targeted differentiated annual waste management charge. The differentiation is on the geographical location of the property serviced.
Water Charges
The annual water charge covers the cost of providing water to ratepayers. This cost varies depending if you are on our urban supplies or one of our rural schemes.
Community Charge
To provide funding for specific expenditure within a defined community of interest area.
Ratepayer Information
Copies of rate accounts and details of rates on individual properties are available from our rates team, email enquiryrates@timdc.govt.nz
Payment can be made by cash, or Eftpos at all three locations. Direct debit, internet banking (via your bank website) and telephone banking options can be used, or you can make payments through our website. Ask our staff.
Timaru District Council collects rates on behalf of Environment Canterbury.
Last updated: 21 Aug 2021