Published: 10 Nov 2017
Road works in South Canterbury: Timaru-Temuka Highway (SH1) between Washdyke and Pleasant Point Highway (SH8)
The NZ Transport Agency is encouraging all South Canterbury drivers to build in a little extra time as work continues resurfacing the Timaru-Temuka Highway SH1 between Washdyke and Pleasant Point Highway (SH8). The road will remain open, but drivers can also take alternate routes to ease congestion, unless they are driving heavy vehicles.
"Contractors will be out in force again working 24/7 from midday, Sunday 12 November for four days, making the most of the summer weather to ensure roads are well maintained and safe for driving all year round," says Transport Agency Journey Manager Lee Wright.
"We thank road users for their patience and understanding and adhering to our advice on the alternate routes while this important piece of work is completed."
Ms Wright says the Transport Agency and its contractors are committed to getting the work done with as little disruption as possible however there will be delays at times during these works.
Please note: heavy vehicles and High Performance Motor Vehicles should stay on the State Highway and not take the alternate routes.
What is happening?
The highway is being resurfaced – milled and paved - in Washdyke, on the Timaru-Temuka Highway (SH1) between Washdyke and Pleasant Point Highway (SH8).
Work will resume on Sunday 12 November from midday for four days. The contractors are working 24/7. Each day they start at 12pm (midday) – do milling until 6pm, then the night shift is paving work.
Pleasant Point Highway (SH8) is closed between Laughton St and Timaru-Temuka Highway (SH8). A detour is in place using Washdyke Flat Rd and Laughton St.
Traffic impacts:
The road will be down to one lane while the works are being carried out.
To avoid delays we recommend that motorists use the alternate routes to avoid the area or be prepared to be patient passing through during morning and afternoon peak traffic.
SH1 Northbound traffic – alternative route:
Use Washdyke Flat Rd, Laughton St, Pleasant Point Highway (SH8), Levels Plain Rd, Arowhenua Rd.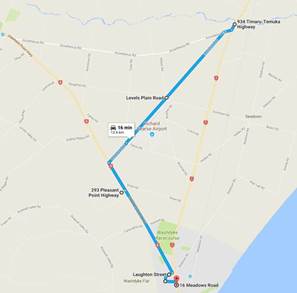 SH1 Southbound traffic alternative route:
Use Dominion Rd, Seadown Rd, Meadows Rd (Stop/go will be used at Meadows Rd intersection where required).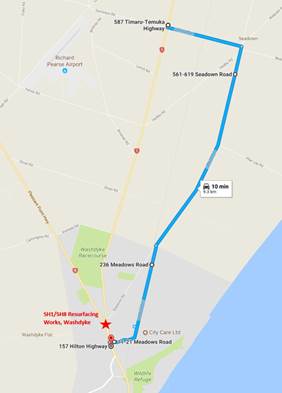 Last updated: 24 Feb 2021